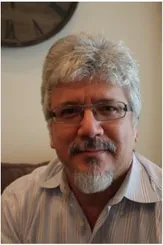 Dr. Luis "Luigi" Leos has been a Licensed Professional Counselor in the state of Texas since 2007 and a Licensed Marriage and Family Therapist in Colorado since 2020. He sees adult individuals and business professionals, couples, families, and male adolescents (16 and older) and uses a Christian application of several professional therapeutic approaches, including models like:
Experiential, dialectic, and cognitive behavioral
Emotion-focused
Internal Family Systems informed Guided Imagery
Eye Movement Desensitization & Reprocessing Therapy (EMDR)
"There are proven methods and tools known to work in various treatment models. We apply the theories and interventions that fit your unique situation in a structured way to achieve your unique goals. The treatment is based on Scripture and science, but, most importantly, it's based on you."
- Dr. Luigi Leos


---
Counseling Credentials
Licenses and Certifications
Licensed Professional Counselor (Texas LCP license number 63241)

Licensed Marriage & Family Therapist (Colorado LMFT license number MFT.0001656)

Certified Specialist in Anger Management (CSAM)
Education
Doctorate of Philosophy in Psychology and Counseling

Southwestern Baptist Theological Seminary (2013)




Master of Arts in Marriage and Family Counseling (2007)

Master of Arts in Christian Education

Southwest Baptist Theological Seminary (2007)

Master of Arts in Management-Organizational Behavior

University of Phoenix (1990)
Experience
Dr. Luigi Leos has been an Executive Coach to business owners, executive managers, and CEOs since 1998, and a business consultant since 1996. He has been a lay leader of Divorce Recover and other self-help groups since 1997. He is very involved with his church and has served as a leader of several educational classes.
His training has included a combination of faith, clinical experience, and research. In 2013, he completed the University's practicum program at Millwood Psychiatric Hospital in Arlington, Texas, and an internship at the intensive outpatient treatment program at the Meier Clinics in Richardson, Texas.
He worked eight years on staff with Meier Clinics, providing marriage and family therapy and outpatient treatment for patients with clinical mental health disorders.
He became clinical director at Spirit Christian Counseling Centers in 2015.
"What I have observed in these experiences, and the thousands of hours with inpiduals and families, is that there is a path out of the internal and external suffering, there is freedom (Galatians 5:1) and I would very much like to explore that path with you!"



- Dr. Luigi Leos
Other Areas of Interest
Dr. Luis "Luigi" Leos served seven years in the United States Navy after which he entered a 20-year career in the Information Technology and Business Consulting industries before beginning his mental health practice.
---
A Personal Note About Christian Counseling
My Story
Early in my married life I had a bad experience with Christian counseling. Effectively, I was told, "Don't you know what you are doing is sin? Stop it!" I did not continue with that counselor, but I thought, There must be more to it than that.
After reading James 1:25, I began to believe that God doesn't want us to be told what to do as much as He wants us to see and experience the freedom of His Word in the real world - in our everyday life.
The result for me has been a "where the rubber meets the road" kind of faith and therapeutic practice. I believe both research and faith need to be "real" (1 Corinthians 15:23) and applicable (James 2:16) to the issues we struggle with.
I believe God has provided a path - in His revealed Truth in Scripture and in science - to the issues we as humans struggle with internally in our genes, physiology, emotions, and thoughts; or externally in our relationships with families, spouses, kids, parents, work associates, and even God.
---
"He has sent Me to proclaim freedom to the oppressed, and recovery to the sight to the blind."
- Luke 4:18
"God did not send the Son into the world to judge the world, but that the world might be saved through Him."
- John 3:17
James 1:25 describes the importance of not just hearing the words of the Bible, but of actually putting them into practice.